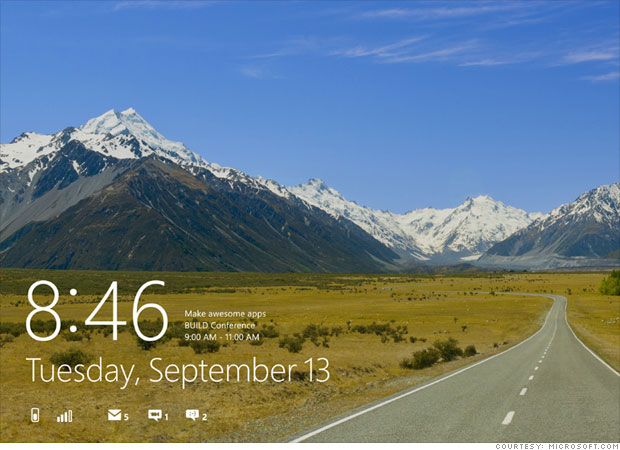 The Windows 8 Lock Screen.
For Windows to work on tablets and touchscreens, it needed to be designed with fingers, short battery life, and on-the-go tasks in mind.
Microsoft accomplished that with Windows 8 by redesigning everything, right through to the first screen you see before you log on. That "lock screen," which displays at boot-up and when the screen times out, shows quick-glance information about users' next calendar appointment, how many e-mails and messages they have, battery life and Wi-Fi signal strength.
Users navigate out of this lock screen to begin using applications with an upwards swipe of the finger, or a swing of the mouse.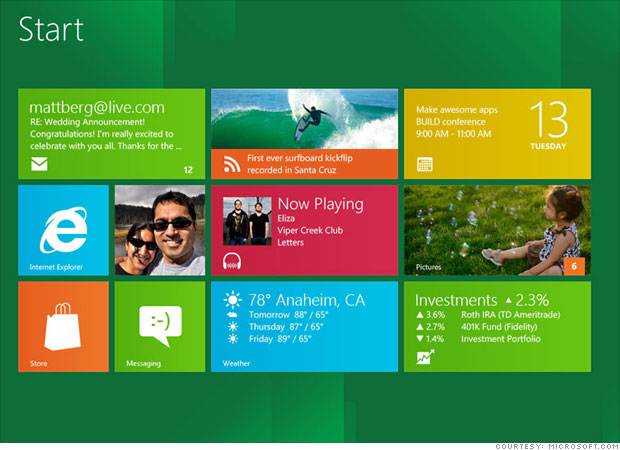 The Windows 8 Start Screen.
Windows' new "Metro" user interface does away with the desktop and replaces it with the start screen. Customizable, interactive tiles replace icons.
But for those longing for a traditional desktop, never fear: Windows 8 still offers a point-and-click desktop that is similar to the experience in Windows 7. Users can navigate between the interfaces with the touch of a button, a click, or -- since this is a Microsoft product -- a keyboard shortcut (Ctrl - Page Down).
Windows 8 also offers a hybrid experience, allowing laptop and desktop PC users to navigate the Metro user interface with a mouse or a keyboard.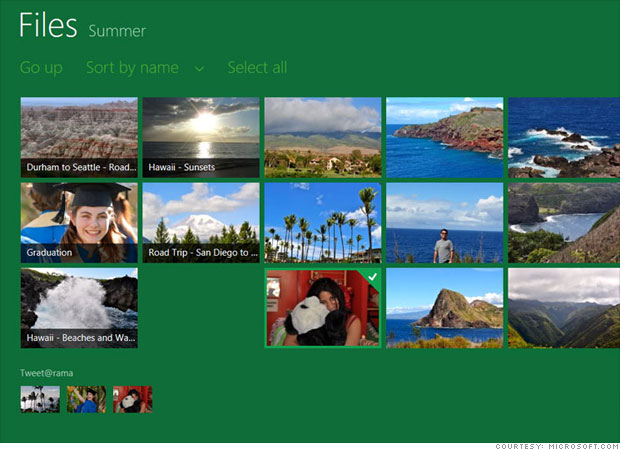 The Windows 8 File Management Screen.
Microsoft was among the first software companies to bring a graphical interface to file management. With Windows 8, users will be able to navigate through files with touches, drags, swipes and pinches.
The new user interface works particularly well with photos, which can be automatically synced with your other PCs as well as cloud-based services like Facebook and Flickr. That means photos uploaded to Facebook or stored on another computer will immediately populate on all of that user's Windows 8 devices.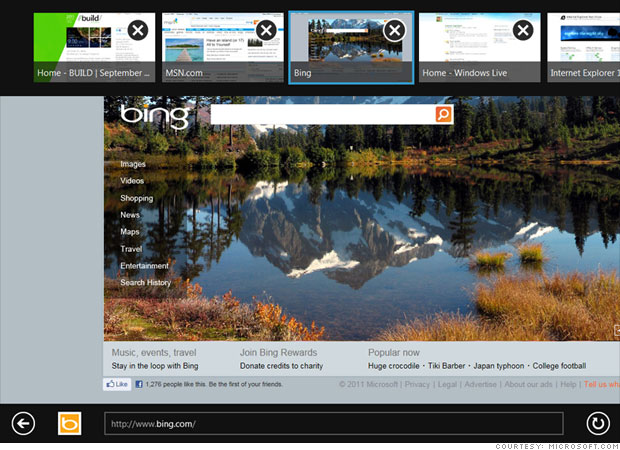 The Windows 8 Applications Screen.
It's not just the operating system's user interface that comes in two flavors, Metro and desktop. Applications themselves will also be available in the two different formats.
The Metro applications, like Internet Explorer 10, pictured above, have a distinct touchscreen look and feel to them, simplifying the layout to just a few large buttons and boxes.
But if that doesn't suit you, users can quickly load their browser session -- or calendar, e-mail, etc. -- in desktop mode with a click of a button.
Many applications will have both Metro and desktop versions, but some apps will only work with Metro, and others will work exclusively on the desktop experience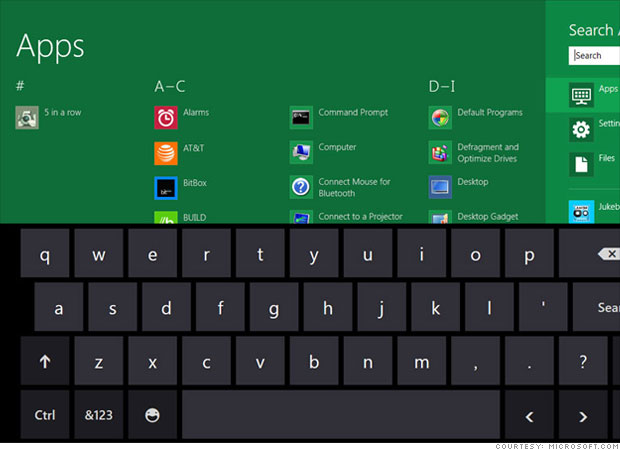 The Windows 8 Apps And Keyboard.
Like a traditional desktop experience, Metro allows users to pin frequently used applications to the start screen and leave the rest in navigable folders and application lists.
For power users with hundreds of applications, that's where the keyboard can come in handy -- start typing, and Windows 8 immediately begins searching for the application you're looking for. Not searching for an app? You can make the computer search through settings, files, or the Web with a touch of a virtual button. Read More
Here